Welcome to the Marine Arena Wiki
The Wiki for the popular custom map for StarCraft II that anyone can edit.
67 articles since October 2010
Overview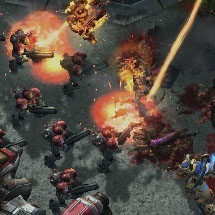 Marine Arena is a popular online game for the Blizzard real time strategy game Starcraft II. Eight players continuously spawn marines from their respective bases while hiring mercenaries, recruiting heroes, and upgrading their abilities in an attempt to crush their opponent's Command Centers.
The game currently features two gameplay modes, four speed settings, and an optional "sudden death" event to control the speed of a typical game.
Marine Arena consistently ranks in the top 10 most popular maps on Battle.net.
Click here for the official discussion thread for Marine Arena
Ad blocker interference detected!
Wikia is a free-to-use site that makes money from advertising. We have a modified experience for viewers using ad blockers

Wikia is not accessible if you've made further modifications. Remove the custom ad blocker rule(s) and the page will load as expected.